Blog
Whooing into the hole
by Steve Eulberg
WHAT IS IT?
This bit of dulcimer history always amazes people when I tell them about it.
When I built my first mountain dulcimer (from a
FolkRoots
kit in 1980), the instructions told me that once it was strung up I was to "whoo" into the soundhole to find out to which pitch I should tune the lowest string.

I was aware of this kind of "tuning" method with reference to native american flutes, which each have their own unique voice, but it was new to me, a guitar and mandolin player.  …
Welcome to the DulcimerCrossing Blog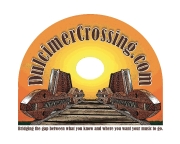 DulcimerCrossing.com
is an affordable site where you can learn to play mountain or hammered dulcimer at your own pace, from the comfort of your own home!
Here we will give updates about the website, write occasional articles about dulcimer-related items and events, and share some mini-lessons and information about the lessons and free stuff in our site.