Mark Alan Wade Live Event
by Steve Eulberg
We are excited to have national champion, Mark Alan Wade, aka the Professor, share music for our monthly Live Event for Premium Members of DulcimerCrossing.com 
Tomorrow Night: 
Monday, Dec. 10th 5:00 PST | 6:00 CST | 7:00 MST | 8:00 EST
This is a secret (ssh!) show, but you can tune in here.
The transition from competitor to colleague is often a very quick and smooth one in the dulcimer world.  I first met Mark as a competitor at Winfield this is certain true in our case.  We have worked together at several festivals and I am in awe of his performance, his teaching and tickle by his sense of humor!
Mark is a freelance musician based out of North-Eastern Ohio. An orchestral trumpeter by trade, Mark has a doctorate in Trumpet Performance from The Ohio State University and has played in a dozen orchestras in the US and in Europe.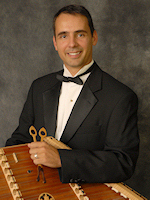 Mark is also a National Hammered Dulcimer champion (1998) and performs all over the world on hammered dulcimer, mountain dulcimer, trumpet, piano, guitar, and penny whistles.
Join DulcimerCrossing.com to have access to all of the lessons all the time, so you can play like Mark!