The Iceberg Illusion
We see the trophies, not the sweat.
We see the diplomas, not the years of study and homework.
We see outstanding performances, not the hours and hours of practice. 
by Linda Ratcliff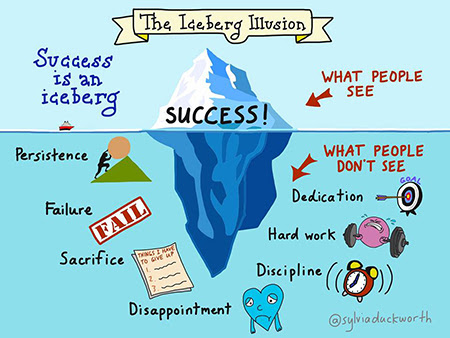 The Iceberg Illusion 
I came across this illustration and it really resonated in my heart. There is this glamour around success that seems to appear when you have "made it." Although I work behind the scenes - writing newsletters, uploading lessons, and answering student inquiries, the rest of our Dulcimer Crossing teachers are "out there" in the public eye - teaching workshops, leading jams at festivals, or performing in concerts. We all look up to them, admire their skill, and dream of the day we can play as well as they do.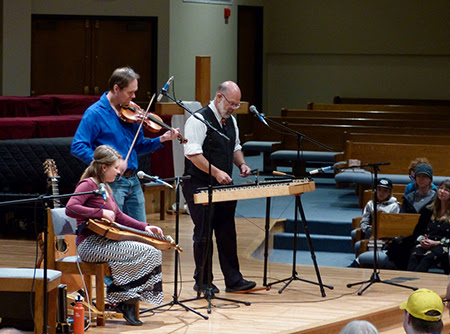 Our teachers performing at the Colorado Dulcimer Festival The iceberg illusion would have you believe our teachers never went through failure, never struggled, never felt discouraged. They seem to play with ease, flying through sections of tunes we STILL haven't mastered at top speed. And they appear to be totally relaxed, not at all nervous, actually very comfortable when playing in front of a crowd.
How do they do that???
The truth is, their success has probably only come after challenges, days of discouragement, and even failures. They have learned the hard way that there are no short cuts, and there is no such thing as an overnight success. Our teachers have spent years developing their skills, practicing for hours, staying up nights developing material for workshops or private lessons. They have put in a lot of time and hard work, with dedication and self-discipline. This is the glue that holds it all together.
If you're struggling, feeling discouraged, perhaps thinking you're never going to succeed in playing through a tune without mistakes, don't give up. Think of the iceberg!  And keep building your repertoire - one tune at a time.
Now, enjoy this video with some of our dulcimer Dulcimer Crossing teachers jammin' on stage at the Colorado Dulcimer Festival this month. 
As always, we invite you to subscribe to DulcimerCrossing.com to take advantage of all of our lessons. And if you have a question, just ask!