My Musical Journey
by Linda Ratcliff
You can tell a lot about my moods from my music. So instead of asking how I'm doing, ask what songs I've been practicing lately.
---
Music has always been an integral part of my life. My grandmother was a concert pianist, and traveled all over Europe giving concerts. She was even invited to play for kings and queens at their castles. And so I was told, from an early age, that music was in my blood, and I was going to be a musician too when I grew up.

Until I was 12 years old, I was coached at home by my mother on the piano. And we did pretty well too. I remember practicing on a church organ in town where my babysitter was the cleaning lady, and playing a melody with the bells that rang up in the bell tower outside. I bet the townspeople were glad when the church cleaning was over for that day.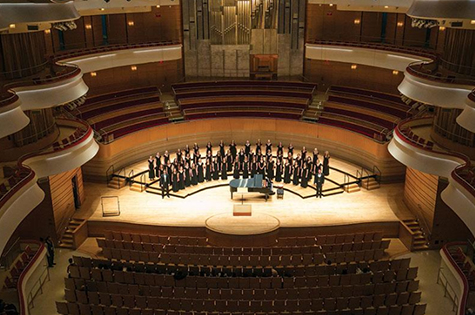 Auditorium Today at St. Teresa's Academy, Kansas City MO
I started high school when I was only 12, and finally had my first formal piano lessons at school. There were practice rooms all around the perimeter of the school auditorium, and I escaped to those rooms every chance I got. I continued as a piano major in college, and was granted a 50% scholarship for high grades. To pay the rest of my tuition, I taught piano at the college, accompanied voice lessons, and played for choral classes both at my all-girls' Catholic college and the neighboring all boys' Catholic college. (Life was good then!)

Over the years, I've learned to play a number of other instruments - such as guitar, bass guitar, harmonica, organ, autoharp - but none of those have caught my heart like the dulcimer. I didn't begin to play the dulcimer until I was 50+ years old, but today I do everything I can to promote dulcimer music and assist dulcimer players through 
Dulcimer Crossing
.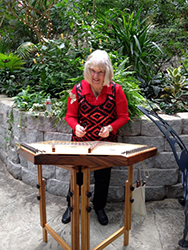 Performing at the Butterfly Palace in Branson, MO
Now we live full time in an RV, and my Steinway piano just wouldn't fit through the door. So instead we brought along my hammered dulcimer and set it up in a corner. I may not give concerts abroad like my grandmother did. And I may not be a full-time professional musician like my mother had planned. But music feeds my soul, and I will continue to play my dulcimer for as long as I can hold on to my hammers. 
If you have any questions, always feel free to ask Steve or myself.

Happy dulcimering, Linda