What to Do....when you're snowed in.
by Linda Ratcliff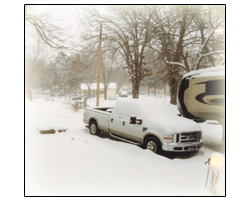 Most of you know I live full time in an RV. At the campground where we stay, they don't believe in plowing. And we live at the low end of the park. Early January, there was ice - on top of snow - on top of ice, with NO hope it would be cleared and we didn't even try to get out. Now most of you would have used that gift of time to practice your dulcimers. But I began going through our lessons one by one, and found some ways to make
improvements
.
•Right now, videos are loaded in a jukebox style - such as you see in this screen shot of Orphan Girl.  In addition, I will be linking each video to its own webpage, to facilitate access for mobile device users.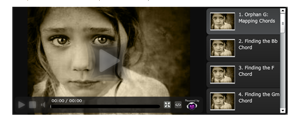 •I found a better system for converting flash animations to videos for our mobile device users. One by one, I'm reformatting those animations.
•We have been building the Dulcimer Crossing website for 5 years now and, through trial and error, continue to learn better ways of presenting the lessons. We will be re-taping some of the early videos so all the lessons will have the same look and feel. This is a long-term project that may take a year. If there is a particular lesson you would like to see us revise sooner than later - give us a
shout
. If you want to see which lessons have already been revised,
click here
.
Angeline the Baker
•This week we added the tablature and animations for our D-A-A lesson on Angeline the Baker, taught by Steve Eulberg for mountain dulcimer players.
As always, if you have any questions, you can always ask
Steve
or
myself
.
Happy dulcimering, Linda