The Iceberg Illusion
We see the trophies, not the sweat.
We see the diplomas, not the years of study and homework.
We see outstanding performances, not the hours and hours of practice. 
by Linda Ratcliff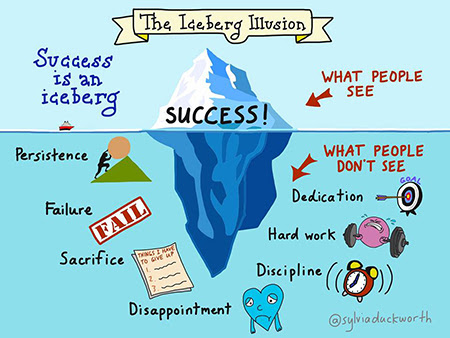 The Iceberg Illusion 
I came across this illustration and it really resonated in my heart. There is this glamour around success that seems to appear when you have "made it." Although I work behind the scenes - writing newsletters, uploading lessons, and answering student inquiries, the rest of our Dulcimer…
Map Out Your Practice like a Workout
by Linda Ratcliff
Map out your practice session out like a workout.
When athletes are getting ready to go for a run, they usually warm up first with some stretches to loosen their muscles. Then they walk for 3-5 minutes, gradually working up to a brisk walk, then jogging, and finally breaking out into a full-steam-ahead run. As they end their run and the workout, most athletes cool down by walking briskly at first and then slower, and finally ending with a few more stretches.

For musicians, a pret…
Erin Mae Lewis' 30 Minute Practice Session Strategy
Here is a question that all of our instructors hear often:  How should I practice? Erin Mae Lewis (formerly Erin Rogers) gives us insights and her suggestions in this lesson in the Mountain Dulcimer Skills section of our website Take a look at a preview below:
Subscribe to DulcimerCrossing.com to see the rest of the lesson!