Avoid Dulcimer Burn-Out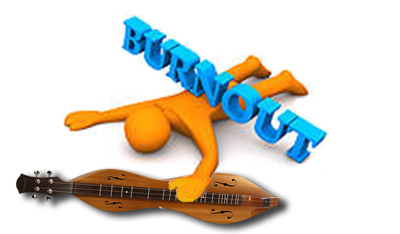 Where does musical burn-out come from? From what I've seen, we all start out from the same place.

We want to learn an instrument.
We take lessons.
We keep getting better, day by day.
We leave the house with our instrument and jam with others.
We pursue our musical dreams, some of us with long-range goals.
Our time is filled with playing the dulcimer. We read, eat, breath, live dulcimer music. We put a ton of time into practice, watching tutorials, preparing for contests, attending conc…
Bloom Where You Are Planted
Bloom Where You Are Planted
I saw this lovely flower in the parking lot of a motel in Mackinaw City this summer. All around the plant, there was nothing but asphalt and concrete. The sun was beating down and it was hot. But the plant was standing up proud and beautiful, blooming right where it sprouted up between the sidewalk and our parking space.

I shot this photo because it reminded me of some of our Dulcimer Crossing members. A few are the only dulcimer player in their entire town. They …
Lessons Learned from Sandcastles
The man who stands firm to protect his sandcastle can never 
be depended on, for he has lost his common sense.
(No sandcastles were harmed in the shooting of these photos.)

We live just 1 hour from South Padre Island, and we go there to enjoy a meal with a view of the water at least once a month. While we're on the island, we usually take the time to look for sandcastles. I'm always blown away by the artistry and detail in them, and they can be found all over the island.

We…