chromatic mountain dulcimer
The Gold Standard Dulcimer
Dulcimer players often joke about having DAD — Dulcimer Acquisition Disorder.
It's true that most of us have more than one dulcimer, and some people have large collections of instruments. We can become addicted to "just one more instrument". I, personally, have a relatively small collection, with "just" 5 mountain dulcimers (though, I have to admit that I also keep about a dozen student dulcimers and seem to have a revolving door of instruments passing through my home to pass onto young people …
New Feature: Sample Lessons
NEW FEATURE: Sample Lessons
We've added a new feature on our DulcimerCrossing.com website:  Sample Lessons by several of our instructors for each of the instruments for which we teach Courses.
Mountain Dulcimer:
These are sample mountain dulcimer lessons from DulcimerCrossing's curriculum, one from each level we teach:
Absolute Beginning-Level 1-Steve Eulberg
Beyond Beginning-Level 2-Butch Ross
Intermediate-Level 3-Neal Hellman
Advanced-Level 4-Nina Zanetti
…
NGFDA hosts DulcimerCrossing Teachers at their Fall Festival in November!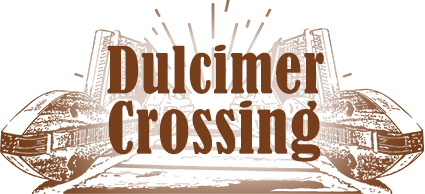 DulcimerCrossing.com is honored to be a sponsor for NGFDA Fall Festival which happens online Nov. 18-20 this year.
We have a long history of providing sponsorship and scholarship support to festivals across the country because we know that there is no substitute for in-person learning.
We are also excited that several of our teachers are providing workshops for this festival!
Erin Mae Lewis
Butch Ross
Nina Zanetti
Karen Mueller
DJ Hamouris
Larry and Elaine Conger
Aubrey Atwater, and
ou…