You Need New Input!
by Linda Ratcliff
You don't have to wait for inspiration to hit.  It's easier to be inspired when you're hanging out with other musicians and playing along with them.
- Linda Ratcliff
---
We go to Nashville a couple of times a year, and one of our favorite things to do in Nashville is to visit the 
Bluebird Cafe
.  We've stood outside under their blue canopy in the rain for as long as two hours, waiting without a reservation, hoping to get inside.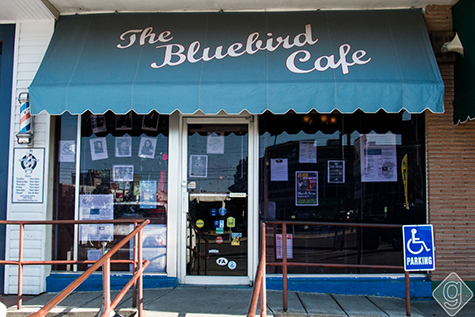 Over 70,000 people visit the Bluebird annually, many of them as a result of seeing the Bluebird Cafe in the TV series "Nashville". Or they may have read about the club in publications such as Southwest Spirit, National Geographic Traveler, The New York Times. Some heard it mentioned by artists such as Garth Brooks, Taylor Swift, Keith Urban, Kathy Mattea, Trisha Yearwood, Kim Richey, Faith Hill, Amy Grant and Vince Gill - all of whom have played there over the past 31 years - at this tiny, legendary club.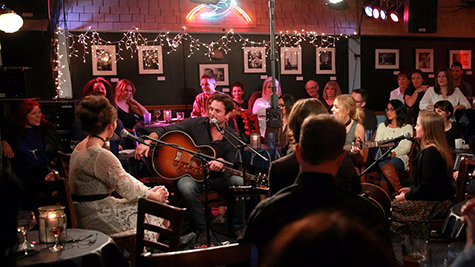 Every show features four songwriters.  Some are already famous, and some are still hoping to be noticed by a talent scout. On our last visit, we were seated at a table with two successful songwriters who were friends. I was curious about why they were attending the show, rather than being IN the show.  So I asked, and this is what they told me.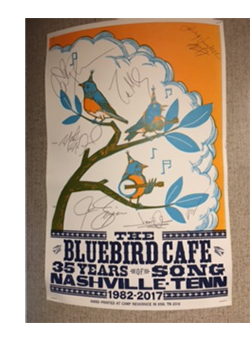 You can't expect new output if you don't get new input.  In other words, you can't sit in your living room, music studio, or outside with the birds for hours on end and expect inspiration to strike. You've got to get out in the music world, listen to other groups playing, interact with other musicians. Then you will find motivation and inspiration.

I have the signature of every musician who played that night, plus the signatures of the two songwriters. I can't remember their names and I sure can't read their writing. But I will never forget their advice and will continue to seek new input.  How about you?