Papa-Daughter Concert Window Highlight
by Steve Eulberg
Back when I gave my daughter a Backyard Dulcimer kit for Christmas when she was five, I don't even think I could have imagined the joy that playing a full concert set together would bring to this Papa's heart! Recently we gave an Advent concert on Concert Window and this is the highlight video of one of our family's favorite tunes:  Mary & the Baby (Sweet Lamb)  [My $25 Patrons have access to the entire archive video of the concert on Patreon]
This traditional tune was collected in Texas where it was part of the Christmas Watch tradition of singing through the night until the dawn broke on Christmas morning.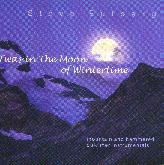 My recording of it on 'Twas in the Moon of Wintertime is also featured in one of my Advent Daily Devotions for Day 17 of Advent. I also teach a Mountain Dulcimer Lesson of this tune on DulcimerCrossing.com.
Kaitlin chose to paint that dulcimer a vivid hot pink color (a choice which she has alternately embraced and by which she's been embarrassed at different ages).  But it is a profound joy to share something which is near and dear to my heart with someone who is near and dear to my heart, and who has employed this love of her own in her work as a hospital chaplain.