Are You Hooked on Dulcimers?
by Linda Ratcliff
Be fearless in the pursuit of what sets your soul on fire.
- Unknown
---
Proverbs 23:7 says, "As a man thinketh in his heart, so is he." So what do you think about the most? What's close to your heart?  For many of you - it's all about your dulcimer and dulcimer music, dulcimer events, dulcimer friends, dulcimer accessories. Here's a little test to check your dulci-meter.

You might be hooked on dulcimers if …
When you get in the car, you pop in a dulcimer CD.

You have a 10" 3-ring binder full of tabs for your favorite tunes.

Before you step out the door, you have pick up your dulcimer and play a minute or two.

You get cranky if you can't find time to play your dulcimer.

When friends come over, they have to listen to you play your dulcimer.

If your spouse says, "Let's take a trip," you google "Dulcimer Festivals."

Every time you go to a dulcimer festival, you buy more dulcimer books, accessories, and CDs.

The majority of (all?) your FB friends are people who play the dulcimer and you follow all the dulcimer groups.

If you play hammered dulcimer, you have 25 sets of hammers.

You've watched every single YouTube video with a dulcimer in it.

You own a mountain dulcimer, a chromatic dulcimer, a dulci-bro, a bass dulcimer, a courting dulcimer … you get the idea.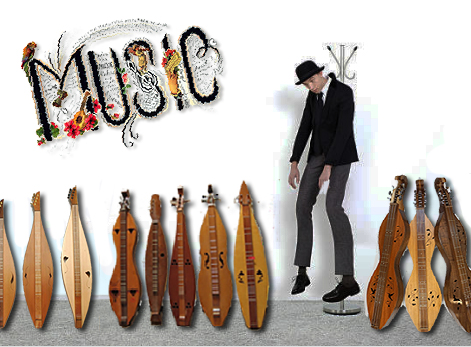 Now this is just my personal opinion but, as far as addictions go, this isn't a bad one to have. But that's because I had to answer "yes" to … well … to be honest … just about every one of those questions. I think Steve would answer "yes" to quite a few as well. What about you?