Learn Something New
by Linda Ratcliff
You will learn something new everyday if you pay attention. - Ray LeBlond
Learn Something New
Sometimes the process of learning a new tune is sabotaged before you even begin. You allow a spirit of doom to hang over your head, because you think the piece is too difficult. You might say ...
Part B seems complicated, and I'm looking for something easier to learn.

This piece is in an odd tuning (like D-G-d), and it's a nightmare to retune.

This tune has hammer-ons and hammer-offs. I never did get those.

This song goes too fast. I'd rather learn one that's nice and slow.

The rhythm is really tricky. I'll just keep practicing songs I already know.
If you recognize any of these thinking patterns, we need to clean up your stinkin' thinkin'.
Preconceptions can make you or break you when learning a new tune.
What if, instead of thinking the new tune is too hard, tricky, difficult, or a total nightmare ... you saw the new tune as easy or a breeze to learn, and you said to yourself, "No problem!"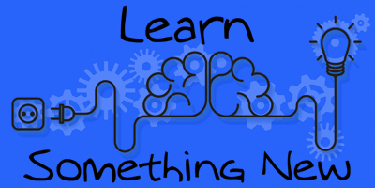 Here are some new and TRUE preconceptions to get in your head whenever you begin a new piece.
All tunes are riddled with what I call "Easy Bits," no matter how tough they might appear at first glance. Go find all the easy bits right away. Maybe even highlight them on your tablature, and see how much "yellow" paper there is.
Find melody or chord patterns you've played before, and say, "Oh, I've seen this before!" Call on your experience, and build on what you already know.
Play to your strengths. I love to learn slow tunes with long arpeggios, so I find myself choosing old-time hymns or love songs to learn. Identify your strengths and choose music that will highlight that.
Albert Einstein said, "Life is like riding a bicycle. To keep your balance you must keep moving."
And to keep progressing musically, you must keep moving forward as well.
Be intentional in choosing music with a tricky section.
Don't just stick with the easy tunes. 
Challenge yourself.