How Many Dulcimers?
by Linda Ratcliff
If you are not willing to learn, no one can help you.
If you are determined to learn, no one can stop you.
How Many Dulcimers is TOO Many Dulcimers? I recently watched a video in which Vince Gill talked about his collection of antique Martin guitars. He has still quite an impressive array of guitars, although he lost 50 in the Nashville flood of 2010. But, of all the rare and valuable guitars in his collection, he said the guitar he treasures the most is his father's guitar (shown in the photo).
 >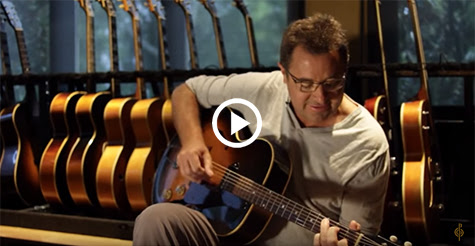 Watching the video reminded me of my own obsession with instruments. It's an addiction ... I'm always wanting one more. It's difficult to look at the posts put up on the dulcimer groups' FB pages that show photos of another dulcimer up for sale, or one that someone just finished building. They just fan that flame of desire and I find myself mentally checking my finances and the space left in my home.
But how many dulcimers is too many dulcimers? I already own a 1995 Master Works hammered dulcimer, a beautiful mountain dulcimer and picking stick - both built byJerry Wright, a Yamaha guitar, two harmonicas, and a ukulele. What more could a girl want?
Well, I think I really need a resonator dulcimer (dulci-bro) and a baritone mountain dulcimer. We offer lessons at DulcimerCrossing for both of these, so I could learn to play them! I would like to have a backpack hammered dulcimer that would be easier to carry around. And I've been without a keyboard for 10 years now, ever since we started living full-time in an RV. We're back in a home finally, so there's space for one now.
Here's what I think.
If I'm content to just mess around with a variety of instruments for fun, the only limit I might have would be my finances. But I need to be careful that I don't personify that old phrase "Jack of all trades, master of none." Now you won't ever hear me say, "I've mastered the hammered dulcimer." I can always see where I need to work more on certain techniques. But the spirit behind the words holds true. If I have too many things on my plate, i.e. too many instruments hanging on my wall, then I might not actually get anywhere with any of them.
I'd love to hear from you! What do you think? How many dulcimers or instruments do you own? Do you actually play them, or are they just a good conversation starter when folks come over to visit?