Award!
by Linda Ratcliff
YAY! WE WON!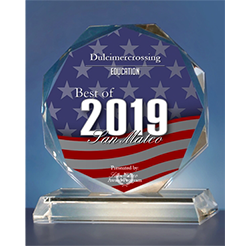 Each year, in and around the San Mateo, California, area, the San Mateo Award Program chooses the best local businesses in several categories. They focus on companies that have demonstrated their ability to use various marketing methods to grow their business in spite of difficult economic times. The companies chosen exemplify the best of small business, often leading through customer service and community involvement.

Steve Eulberg, one of the founding owners of Dulcimer Crossing, lives in San Mateo, CA, making Dulcimer Crossing eligible to enter the competition. Dulcimer Crossing won the 2019 Best of San Mateo Award, in the category of Education.
Thank you, Steve, for all your hard work. We're proud of you.