Bloom Where You Are Planted
Bloom Where You Are Planted
I saw this lovely flower in the parking lot of a motel in Mackinaw City this summer. All around the plant, there was nothing but asphalt and concrete. The sun was beating down and it was hot. But the plant was standing up proud and beautiful, blooming right where it sprouted up between the sidewalk and our parking space.

I shot this photo because it reminded me of some of our Dulcimer Crossing members. A few are the only dulcimer player in their entire town. They have no one with whom to jam on Saturday nights, no teachers nearby for instruction, no dulcimer support system in the area where they live. They are like this flower, pursuing their passion for dulcimer music, alone but succeeding beautifully.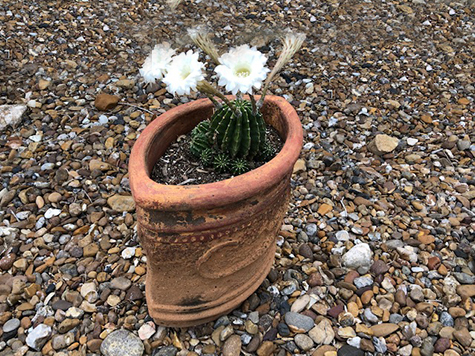 Such dulcimerists surely exhibit the following character traits in other areas of their lives as well.
They are resilient. Sometimes life is hard. Things don't always go according to plan. But this type of person, no matter what life throws at them, finds a way to work it out. Lone dulcimer players, even though they are the only game in town, practice and progress.
They capitalize on their talents and gifts. Regardless of their circumstances, they bear fruit in the most beautiful sense – not only for themselves but for others with whom they share your music.
They flourish and thrive in spite of challenges. Outsiders would think that, like this lonely cactus right in front of my office, their environment is not conducive to learning to play such a unique instrument. But they have probably created a special environment within their own home, a music center for their instruments, and carved out a special place where they practice.
They focus on others. They not only keep on keepin' on, they encourage others to join them in their quest to master learning this amazing instrument.
They embrace challenges. In the heat of the moment, they bloom rather than wilt. Instead of getting stuck in a rut, they visualize the future and keep practicing and pushing forward until they reach their musical goals, one by one.
Now, there are times to bloom where we are planted, but also times for us to be transplanted so we can bloom even better somewhere else.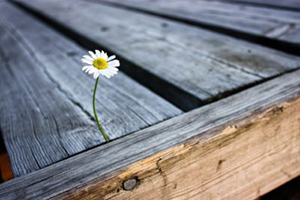 If you are the Lone Ranger dulcimer player in your city, identify where and how you want to grow next by keeping an eye out for dulcimer events and travel to attend.  Take advantage of online learning opportunities such as that offered by Dulcimer Crossing. Buy CDs and watch YouTube videos of great dulcimer players. And register for the online virtual festivals when they are available.  
Your next opportunity to reach out to other dulcimer players is NOW.  There will be a virtual Quarantine Festival October 7th through October 10th, 2021.