Benefits for Seniors
I live in and work in the office at a 55+ Senior Resort. We have a large room called "The Diner," with tables and chairs, games, a jukebox, a kitchen to the side, and lots of puzzles. Never does a day go by that there aren't seniors gathered around the long table, working together to complete yet another puzzle.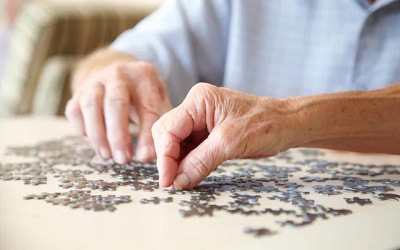 While this is a pleasant pastime for the residents here, there are also several benefits to their playing brain games. I read an article, this week, on the benefits of seniors doing puzzles, and realized the same list of benefits can be attributed to playing your dulcimer. See if you agree.
It improves short term memory. If you've been reading my newsletters for a few years, you'll remember how often I encourage you to put away the tabs and play from memory.


It improves concentration. Don't practice mindlessly. Focus on accuracy and, when you've got the notes down, see how you can bring the piece to life with additional expression.
It will enhance problem-solving skills. Any degree of complication in a new tune will keep your brain engaged, as you learn to play a difficult measure. Often, I brainstorm for a way to re-arrange a choppy section so my hammers flow better.


It offers stress relief. What could be better than putting your troubles on the back burner and just enjoying your instrument for a while.


It can help you sleep. Often, people watch TV or spend time on their electronic devices before going to bed, but this can be detrimental to achieving a good night's sleep. Playing an instrument in the evening has been shown to improve the quality of sleep.


You can connect with others. Nothing is more fun than jamming with your friends.


It keeps your body moving. Seniors struggle to find physical activities that are not too strenuous for them. Playing an instrument keeps your fingers and hands moving. I stand to play my hammered dulcimer, which also strengthens my aching back muscles.


It can be done any time and anywhere. Some physical activities are weather dependent. It might be too hot, too cold, or too dark to walk or ride your bike outside. But you can always pick up your instrument and play inside.  Other times, the famiily is watching TV when you want to practice.  Take your instrument outside and play.


How do seniors keep moving? They keep moving. Do you want to stay active? Pick up your instrument and get your brain and fingers moving.
Happy dulcimering,
Linda