If My Dulcimer Could Talk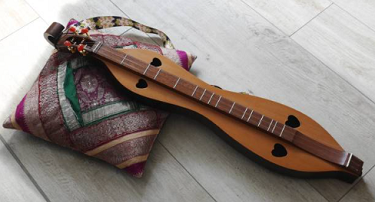 Your faithful, highly treasured, beautiful dulcimer is sitting by itself over there in the corner. What would it say if it could talk? What if it could tell you what it's really thinking? Well, I've taken a guess about a few things you might hear it say.
I'm so honored that you chose me. Choosing your first dulcimer is important, because if the workmanship turns out to be an inferior quality, it may not hold its tuning properly. Many think they will start off with an inexpensive dulcimer, and then buy a better one if they like it. But if it doesn't sound good, you will quickly get discouraged. Less expensive is not always the best decision.


Are you kidding? You forgot to tune first? I have found I practice more and for a longer period of time when my dulcimer is tuned up.


Just because I have a soft voice doesn't mean I have nothing to say. Playing a dulcimer well is more than just playing the correct notes. Try to share the meaning behind the tune by playing expressively. Your dulcimer may bring tears to someone's eyes.


I could sound better if you would just practice. If it doesn't sound as good as you want, it's not the dulcimer's fault. Practice will turn that around.


Brrrrrr. I'm too cold (or too hot). Extreme weather and instruments don't mix. When the temperature changes, most dulcimers will go out of tune. Cold weather can cause the wood fibers to contract and result in cracks. On the other hand, in extreme heat, an instrument's materials may expand. This affects the instrument's ability to withstand the strings' tension. You may remember that I lost my favorite guitar by shipping it to St. Thomas on a container ship, packed in a pod without loosening the strings first. Protect your instrument from temperature changes.


Thank you! Those new strings you put on make me feel so young. If your dulcimer has been lying dormant for a while with an ancient set of strings, it's likely that it sounds leaden and just, well, off. Pop a new set of strings on there (don't forget to tune) and that same dulcimer may sound like a whole different instrument … better and brighter.


Good grief! Why do you need so many dulcimers? I thought I would be your one and only. It charges up my motivation when I add another instrument to the collection. I do realize I have more instruments than I could possibly need, but I sure do enjoy them all.


Just because I've been played by a lot of different people doesn't make me a floozy. Share your instrument with others. It's the best way to build a fire in them so they will want to own their own.
Listen to your own dulcimer. It might have something to tell you!

Happy dulcimering,
Linda