The Value of Partnership
by Linda Ratcliff
My son has a new puppy, part Yorkie and part Dachshund (a Dorkie), called Tipper. And he already owned a black Lab named CJ (after the Jeep CJ-10). Those two dogs have become fast friends, and they have a new hobby - chasing squirrels. Now before Tipper arrived, CJ chased the squirrels alone, but they would run under the shed and the game was quickly over. But now the two work it like a team. When the squirrels run under shed, Tipper chases them back out. Game on!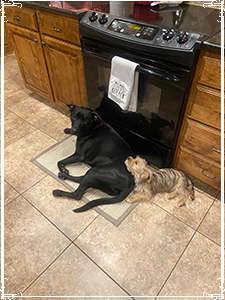 Warming up together by the oven!

Steve Eulberg and I are the co-owners of Dulcimer Crossing, and our partnership is a perfect blending of our talents. I'm more of the behind-the-scenes type, and Steve is comfortable being the public figure for Dulcimer Crossing. When it comes to business decisions, Steve has always listened if I have a different opinion, and we weighed the pros and cons together. Calmly. Our partnership works!
I think I told you in a previous newsletter about my husband's friend and accountability partner. After Mike's open-heart surgery this summer, he fell in love with his recliner. But his friend isn't allowing him to sit around all day. He gets Mike up and out on his recumbent trike every day. If it's cold or rainy, they go to the gym and then the pool hall. He makes exercise fun for Mike. What a great partner!

If you've been dragging your feet lately regarding practicing and participating in dulcimer events, maybe you need to form a partnership with someone. I recommend that you find someone new to this instrument for a partner. Newbies are always SO excited about learning, and will be pounding you with questions, asking for help, inviting you to go with them to festivals and workshops. They won't let you hang back. And from experience, I know that the teacher/coach always learns more than the student.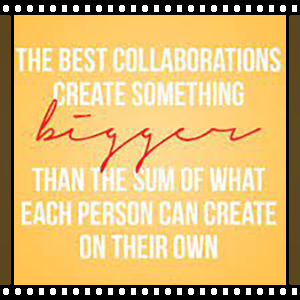 Partner up with a new dulcimer enthusiast, and you will see your own enthusiasm return as well.
Happy dulcimering,
Linda