Get Plugged In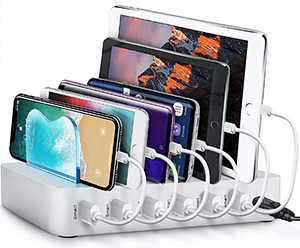 I live in DEEP south Texas, just 10 minutes from the border wall, the Rio Grande River, and Mexico. I am far, far away from any other dulcimer players. I frequently cross the bridge over the Rio Grande River to enjoy all Mexico has to offer – the ambiance, the food, the inexpensive gift items. But as for the music, never have I ever heard another dulcimer player busking on the street. I am more likely to encounter Mariachi bands playing on the street corners, and live music in the restaurants.   And so, for a few years, I have missed out on that fellowship. And because of working full time, I have not been able to attend festivals or workshops. I'll admit, my charge was getting low, my juices were getting dried up.

On the other hand, we travel to see family in the summer, and I would never let my devices lose their charge. The charger shown above is already packed in my backpack for the next trip, and there are extra charging wires in there as well – in case I forget to pack mine. Keeping my devices charged up is important. There are even charging wires in the car, so we stay charged up while we are driving from one child's home to the next. Not only that, I can't stay anywhere without internet. I have to be connected to the outside world. That is absolutely not negotiable.

So why don't I do the same regarding my dulcimer playing? I have neglected that resource too much.

This truth was hammered home when I attended the Quarantune Christmas Concerts online this year.  I didn't just sit back and listen. I had a notepad and pen in hand, taking notes. I heard variations for Christmas classics I hadn't thought of before, and I've worked on my Christmas repertoire for years. Besides playing hymns, that is my favorite class of tunes to play. I heard new combinations of Christmas tunes that make a great medley. I heard scales, runs, and arpeggios I need to review and practice. My fingers itched to try some of what I was hearing, but I didn't want to miss anything by stopping to experiment.

I got RECHARGED at the concert.

If you've gone through a dry spell, just plug in to all the the available resources again. Get connected and recharged. And plan to attend the next QuaranTUNE Virtual Dulcimer Fest February 2-5, 2023. You won't even need to leave the house!