Invest in Yourself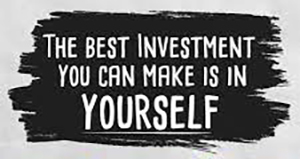 I'm just 4 weeks from retiring (again) and moving, and I'm makin' plans! It's been years since I've taken music lessons from a real teacher. I'm more of a self-taught musician. So I was wondering, is that something I should do now that I have the time? Should I invest the time and money into a more formal strategy of getting my musical mojo back?

Well, I'm undecided about taking lessons in this new season of my life. But I DO know that I plan to invest in myself musically via many other avenues. Here is a mix-up of ideas of things I might do that could strength my rusty skills.
Read. Sure, we all like to read novels for fun. But you can also stir up the juices by reading musicians' blogs. I have already signed up for the emailed newsletters of other musicians.
Study. Studying is different from reading. Instead of skimming through FB posts or blogs, slow down to take notes and do the suggested work.
Write. When I write these newsletters, it's really like journaling for me. I begin to process things I've read or been thinking about.  It helps me sort out or solidify various ideas. Writing a goal list may be the first thing I do (after I get unpacked).
Research. Double-click on Google and look things up - like the back story behind a new tune you're learning. 
Attend workshop. Whether in-person or online, find workshops that will deepen your dulcimer base of knowledge.
Sign up for classes. Dulcimer Crossing offers specialized online classes from time to time.  Or you may want to become a member at Dulcimer Crossing.
Get a mentor/coach. Instead of a teacher and meeting for a lesson every week, having a coach might fit with your schedule better.
Go to festivals. You can get valuable feedback by attending the jams and classes at festivals. And listening to the concerts given by the festival leaders will give leave you motivated to work harder.
Buy some dulcimer books. I think most of you have already assembled your own notebooks with tabs. But you should buy some dulcimer arrangements as well. I buy piano solo books myself, and apply some of the variations to my own dulcimer arrangements.
Study theory books. Different theory books will explain musical concepts differently, and you may get new insight.
Learn new pieces. We will never be able to learn all there is to learn out there.
Perform. Performing the pieces you learn brings your mastery of your instrument to a new level. Schedule yourself for visits to the nursing home, the coffee shop, or street performing. If you're tech savvy, tape a video for YouTube.
Go to jam sessions. You'll hear tunes played from a different perspective than your own.
Collaborate. Working with other musicians can teach you a lot, especially if they're experts on a different instrument.
Watch great performances. YouTube is readily available; you can watch from your recliner. But be sure to attend local musical events at every opportunity.
Ask questions. I remember when my kids were young. They never ran out of questions. And as soon as I finished with one, the other one would come up and ask all the same questions all over again. Don't be shy. Ask questions like you're a kid again. Never stop asking questions and you'll never stop learning.
Ok. I've run out of ideas. What did I miss???

Happy dulcimering,
Linda