Teacher or Self-Taught?
by Linda Ratcliff
A self-taught man usually has a poor teacher and a worse student. - Henry Youngman  
Teacher or Self-Taught?
I am pretty much self taught. Peggy Carter got me started with a few lessons in Houston. And then I joined Rick Thum's Song of the Month Club to learn several jammin' tunes over time. And I had the opportunity to attend a few festivals in the early days. But, for the most part, my arrangements are self taught. 
What do you think ... is that the best way to go?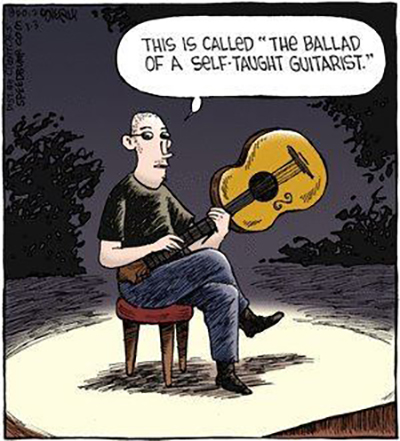 I went online to see what others say, and found a wide variety of comments. Those in favor of having a teacher said …
I progress faster and further with a teacher to encourage, cajole and generally be a critical pair of ears.
A teacher already knows and can explain what you might spend hours trying to learn from the internet.
A teacher can point out details you would likely never notice yourself, such as how you hold your hand/fingers or if your rhythm is unsteady.
Those in favor of being self-taught said …
I'm glad that I taught myself because now I feel like I have my own style of playing.
I like to watch other people play, and I probably learn more from that than I would from the lessons themselves.
I like to "homeschool" my music lessons. I have learned to play several instruments by simply watching videos on YouTube.
I have TWO suggestions.

1. If you don't want to take weekly lessons, it's perfectly OK to self-teach for a month, then book a one-hour lesson to get pointers on your technique, areas for improvement, and suggestions on exercises. If you don't live near a teacher, there are several who will Skype a lesson with you, including our own 
Steve Eulberg
.

2. You could sign up for lessons online with Dulcimer Crossing. Then you can set your own schedule, and login to learn new tunes when you have time. You can cancel at any time, but you probably won't. We keep a steady influx of new lessons coming in, and you won't want to miss a single one.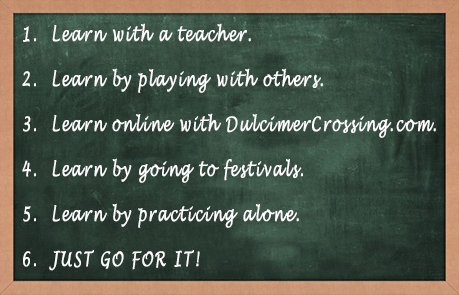 Taking lessons or not, PRACTICE will be the main thing that makes the difference with your dulcimer skills. No teacher can change that. And make sure you spend time learning the songs you love - which might not be the tunes most dulcimer players are playing. Nothing kills your motivation like trying to learn tunes that don't interest you. 
As always, if you have any questions, always feel free to ask Steve
 or 
myself
.